Kunst als Handlungsfeld / Aktuelles
Etcetera wins the International Award for Participatory Art >>
The Argentine collective
>>
is the winner of the second edition 2013
C.R.I.S.I. is a new participatory art project for Bologna by the Etcetera collective adjudicated by the Jury of the International Award for Participatory Art. Crisi, meaning "crisis" in English, is a word that no doubt has entered the daily life of Italian citizens. For Etcetera, though, the acronym C.R.I.S.I. means a "COMMUNE OF RESEARCH FOR INCLUSIVE SOCIAL IMAGINATION," a "social ready-made" based on participatory laboratories. The goal is to discover and develop a new prospective, cultural responses and alternative economies through the use of different media and the funds allocated by the budget of the Award through the course of 2013.
The award jury stated: "The proposal of Etcetera was deemed worthy of winning because it gives a high potential for impact and ensures a large involvement with a vast public. The project presents a certain degree of articulation and involvement of different media and participant groups. The Jury wishes the best of luck to the project to have great support and involvement with the public."
Composed of visual artists, poets and actors, the collective Etcetera began in 1997 in Buenos Aires. They bring art to where social conflict is born, in the streets, and then carry this conflict into the arenas of cultural production, including the media and art institutions. They enter the urban scene as a statement of protest or denunciation, and as a consequence they refer to a time and a specific place. Their practice is characterized by humor, poetic research and deconstruction that shapes a new kind of committed art: free from banal rhetoric and often very sarcastic and "incorrect."
International Award for Participatory Art 2012 >>
An initiative of the Legislative Assembly of the Emilia-Romagna Region Government
>>
in collaboration with LaRete Art Projects and La Pillola
The collective Etcetera, Emilio Fantin and Jon Rubin are finalists of the second edition of the International Award for Participatory Art curated by Julia Draganovic and Claudia Löffelholz and launched by the Legislative Assembly of the Italian region Emilia-Romagna in collaboration with LaRete Art Projects and La Pillola.
The Argentinian collective, the Italian and the US-American artist have in common an artistic approach which, although taking the most diverse forms, is characterized by an involvement of the audience in the artistic process.
All three received the invite to spend a research period in Bologna in order to explore the city, get a feeling for and collect knowledge about the cultural, but also social, political and economic context. The scope of this two weeks residency is to get prepared for developing a project-proposal to be realized next year in Bologna. The stay in Bologna should enable all three finalists, who will be guests of the international residency program Nosadella.due, to deliberately unfold their research regarding audiences, places, practices and opportunities to choose in order to advance their interventions.
The award is dedicated to artists with a proven experience in social practices. Out of a long list of 20 artist nominated by an international committee of curators the finalists have been selected by a jury composed by Julia Draganovic, curator of the award, Rudolf Frieling, curator of the Media Arts department of the San Francisco Museum of Modern Art, Chilean artist Alfredo Jaar, Bert Theis, artist and co-founder of OUT – Office for Urban Transformation and of Isola Art Center in Milan as well as Luigi Benedetti, Director General of the Legislative Assembly of the Region Emilia-Romagna.
American artist Jon Rubin, whose project Conflict Kitchen in Pittsburgh is one of his best known examples of social practice, was the first of the finalists to come and spend his research period in Bologna in May 2012. In the month of September and October, Emilio Fantin, Italian artist with a long record of participatory practices and the Argentinian collective Etcetera, founded to connect art and socio-political activism in an ironic and disruptive way, will be residents of the project.
To discover which kind of mutual stimulus their encounter with the city has created and to see which project will be realized, one has to wait until January 2013, when the jury will select the winner of the second edition of the International Award for Participatory Art.
Handlungsfelder der dOCUMENTA 13, 2012
Vorlesung "Eine Kunst der Komplexität"
, Sommersemester 2012, Donnerstag, 12 bis 14 Uhr, Beginn: 19.4.2012, Ludwig-Maximilians-Universität München, Geschw.-Scholl-Pl. 1 (A), A 214
>>
Tagung "Strategic Art"
, 24.2.2012, 9.30-18h, UdK Berlin, Hardenbergstr. 33
>>
Kunst als Handlungsfeld, Version 2.0, 2011
>>
Vortrag: Operationen statt Repräsentationen. Für eine Kunst der Komplexität
20.7.2011, Bergerkirche Düsseldorf
im Rahmen der
"Arena des Handelns"
,
eine Kooperation zwischen dem -1/Minuseins-Experimentallabor der KHM Köln und der Diakonie Düsseldorf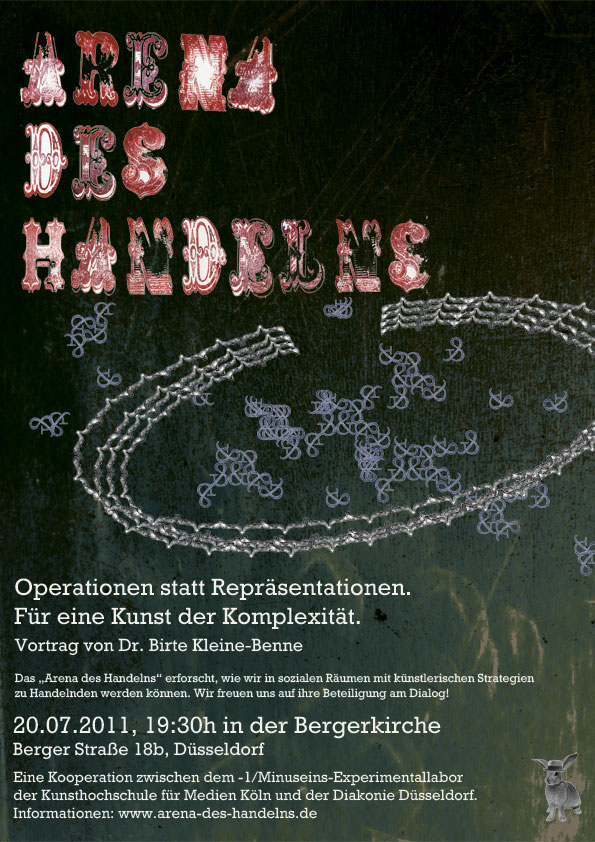 Vortrag: Künstlerische Handlungsfelder. Zu operationalen Formen in der zeitgenössischen Kunst
8./9.4.2011, Institut für Kunstgeschichte der Universität Bern
im Rahmen der Tagung "Das Kunstprojekt - emanzipatorische Praxis und optimiertes Selbstmanagement"
>>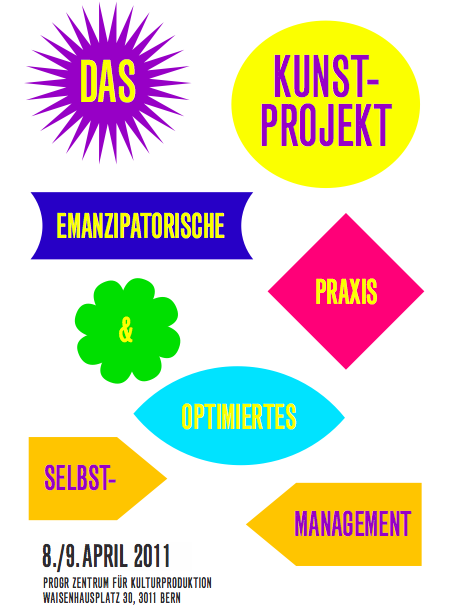 Vorlesung: Kunst als Handlungsfeld
>>
Burg Giebichenstein, Kunsthochschule Halle, Fachgebiet Kunstgeschichte, SoSe 2011
Dienstags, 16-17.30h, Start: 5.4.2011
Handlung: On Producing Possibilities
21 May - 25 July 2010
Kurator: Felix Vogel
Bucharestbiennale 4
>>
Pablo Helguera wins the first edition of The International Award for Participatory Art 2011 >>
for Aelia Media
>>
Helguera's project for Bologna, called Aelia Media, consists in creating a nomadic cultural journalism institute and broadcast center, as an alternative arts multimedia channel. The project will function in two capacities: one, as a training ground for currently active and aspiring cultural producers, and second, as a temporary broadcast program in a variety of media (video, radio, print and web) with a primary emphasis on user-generated content (consumer-generated media) using live participation methods as well as online social networks.
The project will derive its strategies from processes of learning, self-organization, and media production that have local roots but with a contemporary emphasis and outlook. The "Aelia Media Corporation" will try to be a cabinet of curiosities of cultural journalism, searching for the extraordinary in the ordinary, rediscovering the wealth of cultural production in Bologna, and juxtaposing opinions on specific issues, tying them with larger issues internationally.
"The idea of the kiosk", explains Helguera "is firstly to provide visibility of the project in the city and secondly to create a location in the form of a 'third place'. Occasionally the kiosk will "travel" to other parts of the city to reach other communities and to draw attention to particular issues in the city".
International Award for Participatory Art 2011
An initiative of the Legislative Assembly of the Region Emilia-Romagna Italy
>>
The International Award for Participatory Art is a biennial project which started in 2010. The next call for entries involving a group of international experts as nominators is planned for 2012.
The jury of the newly founded International Award for Participatory Art, consisting in Julia Draganovic, Rudolf Frieling, Alfredo Jaar, Bert Theis and, for the Legislative Assembly of the Region Emilia-Romagna, Luigi Benedetti, has selected the three finalists of the first edition of the prize. Mel Chin, Jeanne van Heeswijk and Pablo Helguera are invited to spend a research period in Bologna and develop a site specific project idea. The winning project, selected by the same jury, will be created in 2011. Beside the budget to accomplish the project, the winning artist receives an award of 15,000 Euros.
About the finalists:
Mel Chin (1951) has a broad range of approaches in his art, including works that require multi-disciplinary, collaborative teamwork and works that conjoin cross-cultural aesthetics with complex ideas. Revival Field (1989-ongoing) has verified the use of plants to remove toxic metals from the soil. Chin also expands the catalytic possibilities of art into issues confronting entire cities (Operation Paydirt/Fundred Dollar Bill Project) and primetime popular television (In the Name of the Place), pioneering ways art can provoke greater social awareness, responsibility and action. His projects are consistent with a conceptual philosophy, which emphasizes the practice of art to include sculpting and bridging the natural and social ecology.
Jeanne van Heeswijk (1965) creates contexts for interaction in public spaces. Her art projects distinguish themselves through a strong social involvement. With her work, Van Heeswijk stimulates and develops cultural production and creates new public spaces or remodels existing ones. To achieve this, she works closely with artists, activists, designers, architects, software developers, governments and citizens. Projects include: Talking Trash (MCA Sydney), It Runs in the Neighborhood (Stavanger 2008), The Blue House (Amsterdam), Dwaallicht (Rotterdam), De Strip (Vlaardingen) and Face Your World (Amsterdam/Ohio). Van Heeswijk's work has been featured in biennials such as those of Bushan, Taipei, Shanghai and Venice.
Pablo Helguera (Mexico City, 1971) is a New York based artist whose work focuses on history, pedagogy, sociolinguistics and anthropology in formats such as lectures, museum displays, performance and written fiction. His project The School of Panamerican Unrest, a nomadic think-tank, physically crossed the continent by car from Anchorage to Tierra del Fuego. He has exhibited widely and has been recipient of the Guggenheim Fellowship and the Creative Capital grant. He is the author of several books including The Pablo Helguera Manual of Contemporary Art Style, Theatrum Anatomicum (and other performance lectures), and What in the World.
Beyond the finalists, the longlist of nominated artists for the first award included:
Shaina Anand/CAMP, Ayreen Anastas and Rene Gabri, Navjot Altaf, Zanny Begg, Meschac Gaba, Seamus Farrell, Marianne Heier, Grzegorz Klaman, Mingwei Lee, Otolith Group, Maria Papadimitriou, Marjetica Potrc, Ines den Rooijen and Katerina Seda.
Handlungsfeld 2-3 Straßen
>>
, Jochen Gerz 2008-2010, für Ruhr.2010, Kulturhauptstadt Europas.
Handlungsfeld Kultur | Natur
>>
, Hamburg Wilhelmsburg 2008.
Handlungsfeld FREE YOUR IDEA 2008
>>
, Kooperationsprojekt an der UdK Berlin.
Handlungsfeld kunst.rat
>>
, Work-in-progress seit 2007.
Handlungsfelder der documenta 12, 2007
Ricardo Basbaum, Would you like to participate in an artistic experience?, seit 1994-2007 >>
about >>


Katerina Šedá, For Every Dog A Different Master, 2007
about >>


Alejandra Riera, Enquête sur le/notre dehors, 2004-2007
about >>
Handlungsfelder der Skulptur Projekte Münster 2007
beautiful city, Maria Pask, 2007 >>


The Beggar's Opera (Die Bettleroper), Doria García, 2007 >>


evtl.: Aaspa - Welness am See, Annette Wehrmann, 2007
Handlungsfeld Skulptur Projekte Münster 2007
>>
Seminar: Kunst als Handlungsfeld
Sommersemester 2007, Universität der Künste, Institut Kunstwissenschaft und Ästhetik
>>
Webpräsenz
von Kunst als Handlungsfeld, 2007
>>
Veröffentlichung
Kunst als Handlungsfeld, 2006 im Logos Verlag Berlin
>>
Seminar: Kunst als Handlungsfeld
Wintersemester 2006/2007, Universität der Künste, Institut Kunstwissenschaft und Ästhetik
>>